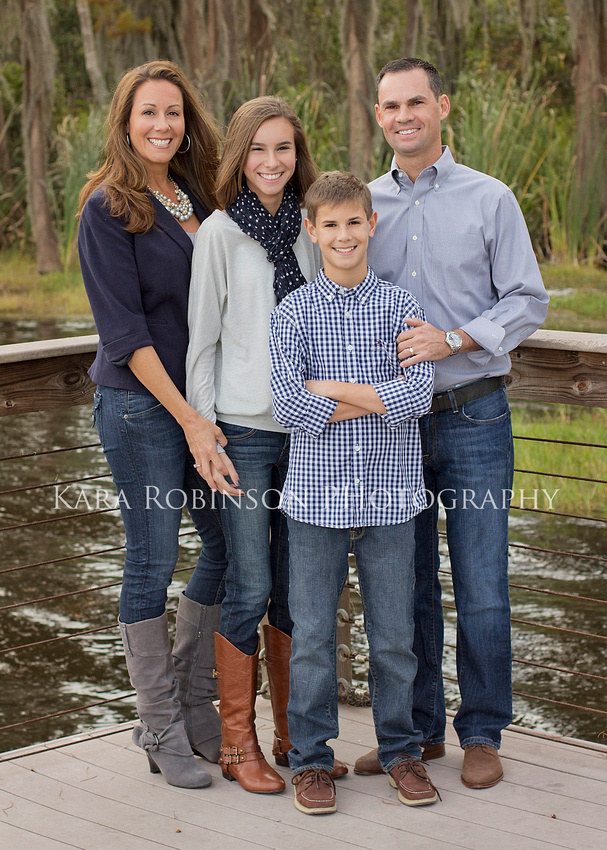 It's the question that causes many of us to stress out this time of year...."What should I wear for my family photos??" To help ease your pain, I've created a list of do's, don'ts, guidelines and color pallet suggestions.
AVOID:
Solid white shirts. White tends to wash out most skin tones and can become overexposed in photos. My goal is to properly expose for your skin tones -- not fight the super-reflective quality of white in a photo. It's also extremely dated to dress everyone in white tops + denim or khaki pants.
Matchy-matchy tops. This mirrors the first tip--do not put everyone in the same color. Coordination is your goal...not matching.
Lots of green. Since I specialize in outdoor photos (with plenty of Florida-green foliage in the background), avoid a pallet focused on green. You can certainly incorporate green in many ways, but a bounty of green shirts doesn't create a striking photo in our natural habitat.
Small pinstripes. Patterns are great, and I love working with them. However, do not select tiny pinstripes for photos, as they can become "zig zaggy." Plaids work wonderfully -- as long as they are not VERY small.
No logos. Do not wear a shirt or jacket with a brand name splashed across the front. Logos are distracting and will look silly ten years from now.
No sneakers. If at all possible, choose something other than sneakers/tennis shoes for your photos. Canvas shoes are fine, especially if they provide a "pop" of color. Go with boots, ballet flats, nicer shoes -- or simply bare feet.
Last minute haircuts. Allow 1-2 weeks after a cut or color before taking your family photos, if possible. Women's hair color needs time to "settle" and kids will look more like themselves.
WHAT WORKS:
Pallets of 3-4 colors. Pinterest is a GREAT resource to be visually inspired. (See my links at the end of this article for LOTS of combos.)
Neutrals. When in doubt, choose several neutrals and one pop of color. A great example is Navy/Cream/Gray and a pop of turquoise (or pink, or mustard yellow). Or, Brown/Khaki/Oatmeal plus a color pop. Neutrals create a timeless photo.
Small delicate patterns. Dainty, vintage flower patterns are perfect in photos. Larger patterns like plaid work too, as long as there aren't too many competing patterns happening in a group. Patterned tights and leggings are a great way to break up solids.
Build around one outfit. It's easiest to start with one "standout" outfit (such as an adorable little girl's dress), and select coordinating solids. Or, choose the youngest boy in the group and give him a plaid top with neutral tie. Then choose the parent(s)/older siblings' outfits through neutrals and texture. Add a scarf or bright necklace for women and you're on the right path!
Texture!!! I'm a huge fan of texture. Consider incorporating lace, boots, patterned tights, tweed, scarves, etc.
Layers. Mom might layer a fitted denim or leather jacket. Dad or brother could wear a vest and/or tie. Sweaters add layers of color and texture, and help camouflage arms.
Long sleeves. Easier said than done in our subtropical climate! However, SO many women tell me, "I HATE MY ARMS." And no, I will not Photoshop your arms to appear totally different. Simply choose a lightweight sweater or jacket (trust me -- I do this myself!!). Generally speaking, longer sleeves look best in photos.
Accessories. Add a flower or headband to little girls. I've even put a flower in my own hair! Necklaces provide color and texture.
CONSIDER THE FOLLOWING:
Where will the photo be displayed? Is it only for holiday cards, or will this print hang in your formal dining room? If your goal is to create a wall portrait, what is the room's decor? Is it a fancy room made up of mostly neutrals? Or is it a fun and bright game room?
What is the theme of our setting? If it's a beach shoot, choose flowing, lightweight, comfortable clothing to match the environment. A field might call for a more vintage look.
LINKS:
Awesome pallet suggestions on my Pinteret Page:
http://www.pinterest.com/seminolechic/color-pallets-for-photography/
Examples of color combinations: